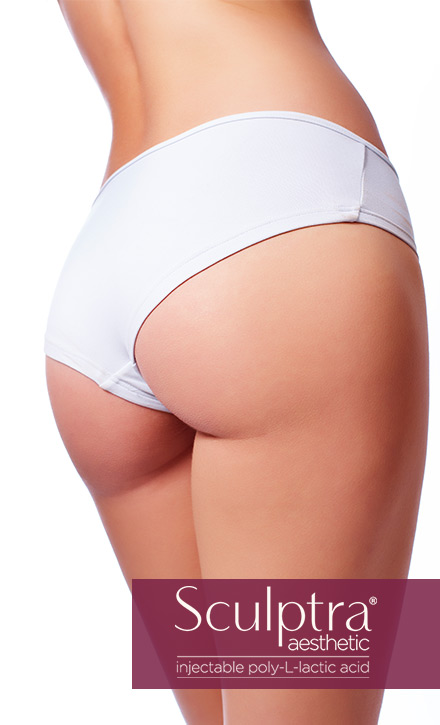 We are proud to announce that we just made it to the top 100 Sculptra providers in the United States! What's more thrilling is after years of rejuvenating thousands of beautiful faces we are excited to offer the Sculptra Butt Lift!
Brazillian but lifts have been the new craze because who doesn't love a perky rear end? Whether you're looking to enhance what Mother Nature gave you or addresses the effects of time and gravity, sometimes Pilates just doesn't do the trick! Now you can achieve a beautiful lift and add volume and plumpness without having to undergo invasive surgery or deal with the down time!
How does Sculptra Butt Lift work?
Sculptra is an FDA cleared collagen stimulant made with poly-L-lactic acid. Guided by the hand of an experienced injector, it tells your body to create new collagen to get a lift, increased elasticity, and better contour through added volume. Because it stimulates the body's own collagen, patients also notice an improvement in skin quality and cellulite. Depending on the patient's desired outcome, it can take 2-4 treatments to achieve
How long does Sculptra Butt Lift take?
Each treatment takes about 30-60 minutes. Depending on the patient's concerns and desires, it can take 2-4 treatments to achieve the final result. The Sculptra substance is injected in a large saline solution which gives the appearance of immediate results and an impression of what the ultimate result will be right afterward. This typically wears off in 24-48 hours. As your body gradually produces the new collagen over the next few weeks you will notice more fullness, smoothness and lift as your posterior improves with each treatment.
How long does Sculptra Butt Lift last?
The result can last 2 to 3 years. Patients usually do touch ups 1-2 times a year to maintain optimal results.
Am I a good candidate for Sculptra Butt Lift?
The non-invasive sculptra butt lift is ideal for patients who are looking to create a subtle lift or plumping of their buttocks to improve their contour and don't want to undergo surgery.
Is there down time after the Sculptra Butt Lift?
As with any injection there may be some minimal bruising and tenderness. However, there is no downtime as your daily activities will typically not be affected. You may go back to your regular exercise in 3 days.