Dr. Irene Gladstein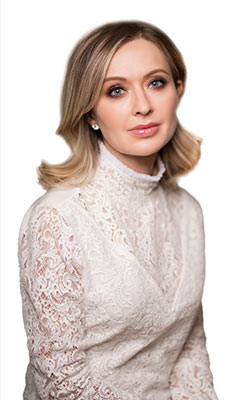 Dr. Irene Gladstein was born and spent her formative years in Europe, where her deep appreciation of artistic form and her eye for beauty was established. She received her Bachelor's Degree from New York University School of Arts and Science, where she focused on premedical studies and history of fine arts. She was then accepted to one of the most prestigious medical schools in the country, New York University School of Medicine, via an early admission process reserved for only the most qualified candidates. There, she earned her medical doctorate degree. Dr. Irene Gladstein completed her residency training at New York University Medical Center and Manhattan Eye, Ear, and Throat Hospital, at the time the premier hospital for cosmetic eyelid surgery in Manhattan. She then continued her Aesthetic Surgery training, completing a Fellowship in Cosmetic and Reconstructive Oculoplastics Surgery.
As a highly experienced, prolific and technically advanced eyelid surgeon who performed many thousands of eyelid lifts, Dr. Irene Gladstein has developed and perfected an approach to upper eyelid surgery leading to quickest recovery with minimal swelling and scarring as well scarless lower lid surgery. Her patients constantly comment on the natural and impressive results that truly enhance lives and uplift spirits.
In addition to intricate surgical skill, Dr. Irene Gladstein and her associates are among the top and most artistic cosmetic injectors in the US. THE ENHANCERS is proud to be the top 100 Sculptra and top 250 Allergan family products injectors in the country.
Dr. Irene Gladstein has been a member of the Facial Aesthetic Facial Faculty for Allergan Cosmetic for the past 9 years. She is a highly regarded speaker and is actively involved in large-scale injectable demonstrations and hands-on training for a variety of aesthetic societies. Dr. Irene Gladstein regularly trains cosmetic providers on how to perform cosmetic injections effectively and safely. Dr. Irene serves on the Board of Directors for the Cosmetic Surgery Foundation and also is a fellow of the American College of Surgeons.
Dr. Irene Gladstein has been the creative director and inspiration behind THE ENHANCERS, Instagram influencer account with over 27K followers from across the US and the world offering a reliable source of information on medical aesthetics. Under Dr. Irene Gladstein's careful guidance and leadership, THE ENHANCERS has become the go-to source for beauty activists effectively establishing Dr. Irene Gladstein as one of the leaders in the emerging world of physician led-social media.
Our Associates
---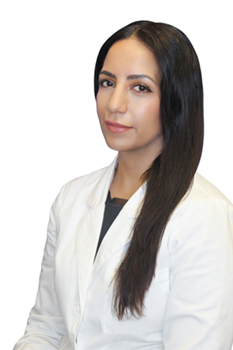 Komal Khiani – Physician
Komal Khiani, MD is a board certified cosmetic provider and an avid believer that aesthetics and wellness are a new societal norm. Dr. Khiani comes to the @theenhancers with perfectly complimenting skills in advanced non-surgical aesthetics, hormonal health optimization, and weight loss management. She was carefully selected by Dr. Gladstein for her keen eye for beauty, gentle touch, and upbeat yet warm and caring personality. Dr. Khiani's diverse background in medicine not only allowed for superb clinical expertise but also empowered Dr. Khiani's evolution into holistic total body wellness provider she is today. When it comes to non-surgical aesthetics, her treatment plans are reflective of @theenhancers signature natural approach. Her total body wellness and hormonal balance integration approaches are designed to help you become a better version of yourself while staying true to natural and fitness oriented lifestyles we all value.
On a personal note, Dr. Khiani loves to learn and often dedicates her free time to advancing her clinical knowledge in all aspects of aesthetic and anti-aging medicine. When not reading or listening to podcasts, Dr. Khiani enjoys being with her family.
---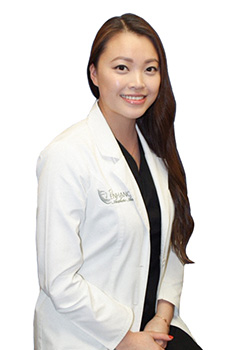 Angela Yip – Physician Assistant
Angela Yip is a Physician Assistant who received her degree from St. John's University in Queens. Her passion in taking care of others and in medicine was what led her to earn a degree in Physician Assistant studies. During her training, Angela rotated at a large dermatology and cosmetics practice where her zeal for the fields grew. Upon graduation, Angela obtained a position in a cardiology lab where she performed urgent and emergent procedures every day. Her years of experience there have given her valuable skills in accuracy, attention to detail, and patient care. Angela's love for medicine and the arts was well-noted when she got the opportunity to train under Dr. Irene and became a certified cosmetic injector at THE ENHANCERS .
Some of Angela's services include Botox/Dysport/Xeomin, dermal fillers, Kybella, THE ENHANCERS Hair PR P, and THE ENHANCERS Skin PR P. She takes special pride in her lip augmentations where both subtle or full glam results can be achieved while still remaining looking natural. Angela also enjoys performing a combination of cheek lifts and smile line improvements, where patients are often pleasantly surprised by how refreshed they look without any signs of looking overdone.
---
Amanda Londino – Physician Assistant
Amanda Londino is a Board-Certified Physician Assistant, specializing in aesthetic enhancements. She earned her Bachelor Degree in Health and Human Development at The Pennsylvania State University and graduated from Chatham University with her masters in Physician Assistant Studies. Amanda went into PA school knowing she wanted to practice aesthetic medicine. She saw it as a unique platform that allows her to empower people while utilizing her vision and creativity. Her decision was confirmed when she completed a rotation in Plastic Surgery. After graduation, Amanda went on to work in Plastic Surgery, where she gained extensive knowledge in surgical and injectable enhancements along with non-invasive aesthetic treatments. Additionally, she was trained by  Dr. Irene Gladstein in mastering the art of natural looking enhancements. Amanda loves what she does, and it is felt by patients and colleagues alike that her heart is in her work. She finds nothing more rewarding than helping others feel their best and most beautiful.
---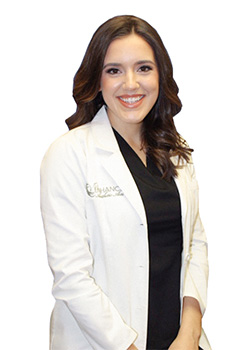 Stephanie Butschek – Physician Assistant
Stephanie Butschek is a Physician Assistant specializing in Aesthetic Medicine. Stephanie received her Bachelor's Degree in Biology from Texas A&M University graduating at the top of her class and earning Summa Cum Laude honors. She then moved to the East Coast to attend graduate school at Rutgers University where she obtained her Master's Degree in Physician Assistant Studies. Pursuing her interest in varying cultures and diverse faces of beauty, Stephanie has lived in many different and beautiful places including Europe, South America, and the Caribbean where she studied art and science gaining a unique perspective on the delicate balance between the two fields.