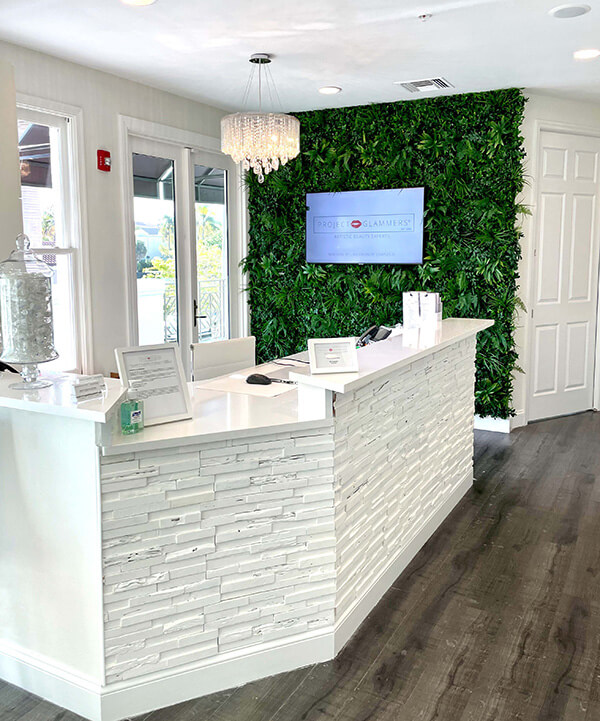 898 5th Avenue South,
Ste 204
Naples, FL 34102
(877) 208-2882

Your aesthetic journey begins here. Located in downtown Naples' most vibrant shopping district in the heart of the iconic 5th avenue, our Project Glammers Florida med spa is housed in an iconic clock tower building and is designed to provide a calming zen experience for our patients.
We're proud to offer superlative aesthetic treatments in this state-of-the-art facility, including an extensive injectable menu of latests and greatest injectables, as well as facial and body contouring methods designed to produce remarkable results. You'll also find a variety of noninvasive treatment options for skin rejuvenation, skin tightening, radiofrequency resurfacing, treatments for redness and hyper-pigmentation, laser hair removal, stubborn fat reduction, and much more.
Led by renown oculofacial plastic surgeon and master injector  Irene Gladstein, M.D., F.A.C.S., Project Glammers carries on a tradition of creating beautiful outcomes backed by a team of highly skilled associates, aestheticians, medical assistants, and patient concierges who are dedicated to offering the very best in medical aesthetic treatments.
Providing an exemplary patient experience is what it's all about. We'd love to get to know you and help you achieve your most desired aesthetic goals. We invite you to schedule your consultation at our Naples office today and be on your way to the beauty you deserve!
Click HERE to book your appointment with us.
PRFM for eyes, hair, neck and brows
PG® Skin (RF Microneedling with PRP)
PG®️ Neck (RF Microneedling with PRP PLUS PRFM)
Project Glammers®️ Hair (PRFM Injections)