Renew your skin from within by activating its natural power of collagen production with Sculptra®. Collagen is a major component in healthy, youthful-looking skin, but it unfortunately diminishes as we age. When collagen production starts to fade (beginning even as early as your mid-20s), fine lines and wrinkles begin to show and skin starts to sag. Sculptra offers a phenomenal treatment option for those who wish to replenish the body's natural collagen, and we're proud to offer this game-changing treatment at all three Project Glammers locations.
How does Sculptra work?
Sculptra® is an FDA-approved injectable that gradually activates and replaces lost collagen in the skin. After being injected into the targeted area, Sculptra goes to work to boost collagen production in the weeks and months following treatment thanks to a biodegradable, biocompatible, synthetic substance called poly-L-lactic acid (PLLA). PLLA continues to help produce collagen strands in the body over time, resulting in skin wrinkles being reduced or eliminated temporarily. The gradualness of the process is what contributes to natural-looking results that can last up to two years.
What is Sculptra used to treat?
Sculptra has shown to be effective at improving the appearance of the following:
Nasolabial folds (smile lines)
Marionette lines
Chin wrinkles
Other facial wrinkles


Sculptra Before and After Gallery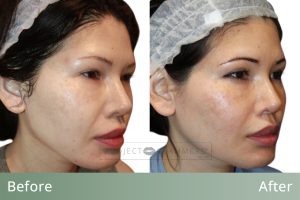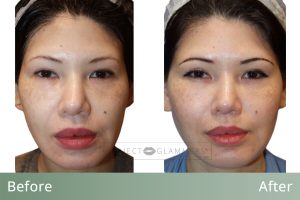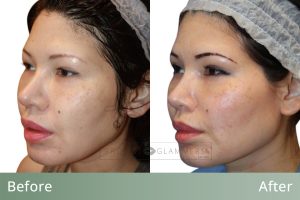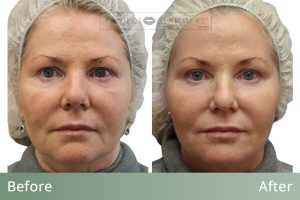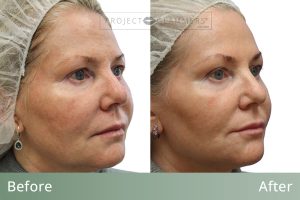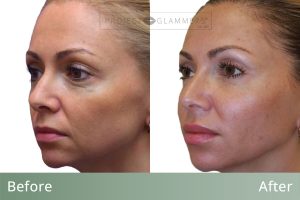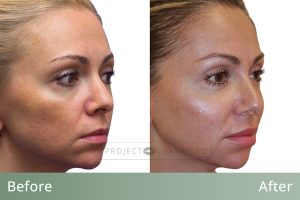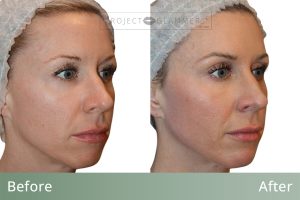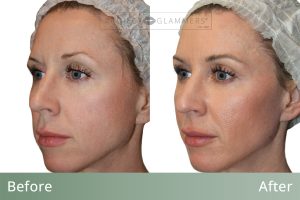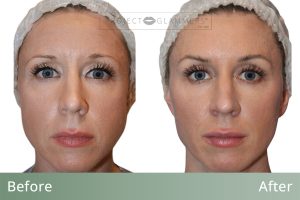 How many injections of Sculptra are needed for best results?
At Project Glammers, we often administer Sculptra in a series of about three injections over the course of three to four months to produce optimal results. Additional injections may be needed for some patients to achieve the most desired results based on the extent of lost collagen and their individual skin structure. Our knowledgeable associates will discuss your personal aesthetic goals with you and determine the necessary course of action to deliver the results you desire.
Can collagen creams or supplements provide similar benefits?
While there are a variety of collagen products available on the market that can provide some degree of benefit, most are nominal at best. Because collagen molecules are simply too large to penetrate the dermis in an effective manner, most collagen creams tend to have only slight impact, if any. Collagen dietary supplements have certain limitations as well, primarily because much of the collagen gets broken down in the digestive tract before it can be of any benefit. So, as far as truly impactful collagen restoration, Sculptra takes the spotlight when compared to these other methods.
Are there side effects with Sculptra injections?
Some side effects may occur with Sculptra, just as with any other injection. The most common of these may include:
Swelling
Redness
Injection site tenderness
Bruising
Itching
Lumps
Mild bleeding
There have been instances of allergic reactions reported with Sculptra injections, though rare. During your private consultation at Project Glammers, our highly trained associates will go over all the details of this revolutionary treatment to help you determine if it's the best option for you and make sure you're well informed of what to expect.
When will I notice the results from Sculptra injections?
Sculptra's effectiveness in producing more natural-looking, anti-aging results lies in its gradualness. Over the course of a few weeks following injections, you'll begin to notice wrinkles gradually minimized and your skin's lost volume restored. It may take up to a few months for optimal results to shine through, but most patients say the wait is well worth it.
How long do results from Sculptra last?
Though results may vary from person to person due to factors such as genetics and metabolism, most Sculptra patients enjoy results that last up to two years – sometimes even longer. Of those surveyed, 80% of Sculptra patients reported being happy with their results a full two years after their injections.
What's my next step to lasting results with Sculptra at Project Glammers?
Sculptra may offer the long-lasting solution you've been searching for to produce the smooth, youthful-looking skin of your dreams. Your first step to finding out more is to call us at (877) 208-2882 or click here to book your appointment online. Our knowledgeable, friendly staff will work closely with you to determine if Sculptra best aligns with your beauty goals.